Skip to Content
Algonquin Smiles Uses VELscope® to Detect Oral Cancer Sooner
In the U.S., one person dies from oral cancer every hour, and 100 people are diagnosed every day. The face of oral cancer used to be a male over 40 who smokes and uses alcohol excessively, but no longer. Twenty-five percent of new cases are in people, men and women, even those younger than 40, who do not smoke or drink. A leading cause of these cases is HPV, the human papillomavirus, the same virus responsible for cervical cancer. Seven percent of new cases have no identifiable cause. And oral cancer is on the rise, despite the fact that smoking has been on the decline over the last 30 years.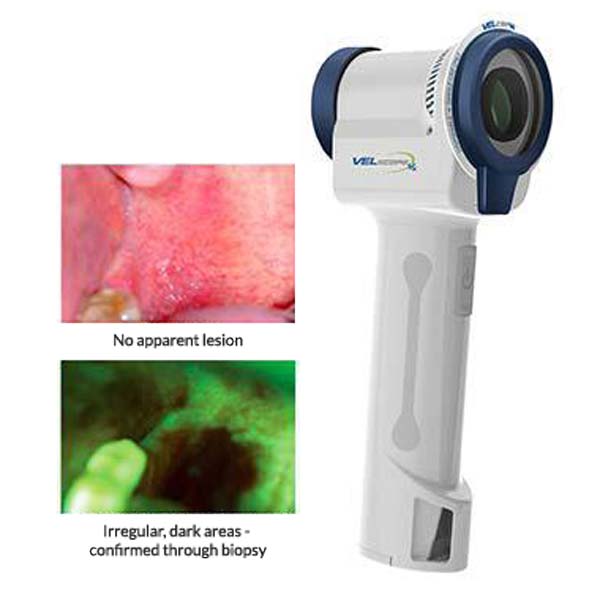 VELscope Detects Abnormal Tissue Faster
Most oral cancer diagnosed has a low five-year survival rate of 57%, not because it is hard to discover or diagnose but due to cancer routinely being discovered late in its development. Oral cancer is typically visible to the naked eye when it has reached stages 3 and 4, or it becomes evident when it has spread to the lymph nodes of the neck. The VELscope® can change this. Using blue light technology, abnormal tissue can be identified from normal tissue at stages 1 and 2, when the survival rate jumps to over 80%.
There are no rinses or dyes and the screening is completely noninvasive and painless. It only takes a few minutes. We recommend an annual VELscope screening for every patient over 18 years of age.
A VELscope Screening Is Easy
Dr. Audrey Sim serves the residents of Algonquin, IL as well as the nearby Illinois communities of Carpentersville, Crystal Lake, Huntley and Lake in the Hills.
She performs family dentistry and cosmetic dentistry solutions. They deliver personalized dental care for a wide range of oral health issues, including periodontal disease. In addition, they provide dental fillings, porcelain veneers, teeth whitening, and Six Month Smiles.
Have you asked yourself, "Is there a local dentist near me?" You'll be glad to know there's a friendly dentist who's willing to help you. Experience the highest standard of dental excellence. Make Dr. Audrey Sim your first choice for complete dental care. For expert dental care, give us a call and schedule an appointment. Reach out to our office by calling 847-854-9833 at your earliest convenience!