Skip to Content
Dr. Sim Finds Cavities Faster with DIAGNOdent™ in Algonquin, IL
The diagnosis of cavities is recognized to be a challenge. Detection of cavities by visual examination, dental exploration (the dental "pick") and X-rays each have limitations but the one limitation that they all have in common is that they only become more accurate as a cavity gets bigger. Many patients want to catch cavities early, before they become more extensive and expensive to treat and the DIAGNOdent provides an answer.
Another obstacle dentists face today are "hidden" cavities. Due to fluoridation, cavities have gone "underground." While helping to improve the oral health of many Americans, fluoridation has resulted in harder tooth enamel. Small cavities that once began on the tooth's surface have now migrated below the surface, often causing large amounts of damage to the inside of the tooth before they are seen at the surface. The DIAGNOdent provides an answer to this challenge, as well.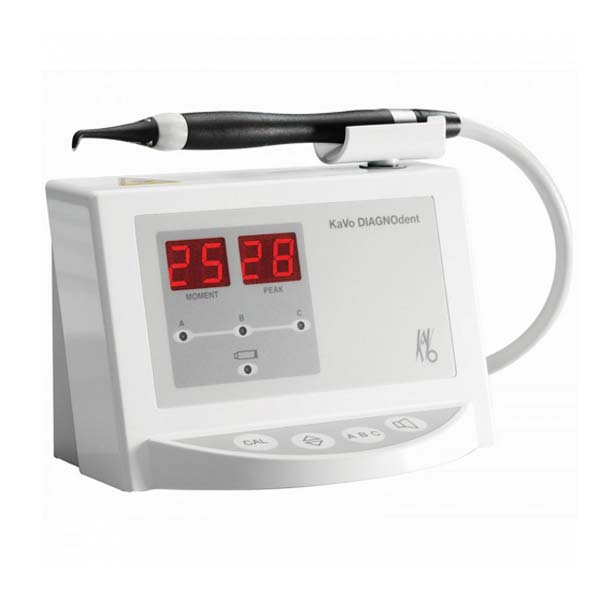 How Does It Work?
The DIAGNOdent aids in the detection of cavities, especially early decay. Even very small lesions can be detected, enabling you to protect and preserve tooth structure. The technology is based on the fact that altered tooth substances and bacteria fluoresce when they are exposed to a specific wavelength of light. The DIAGNOdent operates at a wavelength of 655 nm. At this specific wavelength, clean healthy tooth structure exhibits little or no fluorescence, resulting in very low-scale readings on the display. However, tooth structure damaged by decay will exhibit fluorescence, proportionate to the degree of decay, resulting in elevated readings on the display of the DIAGNOdent.
An audio signal allows us and you to hear changes in the scale values and a numerical, objective reading is given by the device. This allows us to objectively determine if discolorations on the tooth surface are stains or hidden cavities lurking beneath the surface.
Benefits of DIAGNOdent
Allows the quantification of cavities activity over time with a precise & reliable measurement.
Reproducible results permit checking, stabilization & documentation of cavities.
Extremely accurate diagnostic aid, proven to be over 90% accurate.
Early detection of pathological changes that are undiagnosed by conventional examination methods.
No scratching probe: simple, fast & painless examination.
To learn more about DIAGNOdent, please call our office.
Gentle Dentistry in Algonquin & Nearby Illinois Communities
Dr. Audrey Sim is a trusted name in comprehensive family dentistry. Known for her exceptional dental care, she performs restorative dentistry and cosmetic dentistry solutions for a wide range of dental issues such as broken teeth. She also provides complete treatment for periodontal disease. She serves the residents of Algonquin, IL as well as the nearby Illinois communities of Carpentersville, Crystal Lake, Huntley and Lake in the Hills. For expert dental care, give us a call and schedule an appointment. Reach out to our office by calling 847-854-9833 at your earliest convenience!