Skip to Content
STA (Single Tooth Anesthesia)
Are You Dental-Phobic? Do You Hate Shots? You'll Love STA!
STA, or the Single Tooth Anesthesia System®, makes your visit anxiety-free and more comfortable for you and your family. STA painlessly delivers anesthetic to a single tooth without the need for a traditional injection and eliminates the after-effects of a numb tongue or cheek.
Anesthetic is delivered through a small probe placed between the tooth and gum. Computer-controlled, the anesthetic is flowed around the root of the tooth at a level just below the pain threshold so the anesthetic is virtually painless!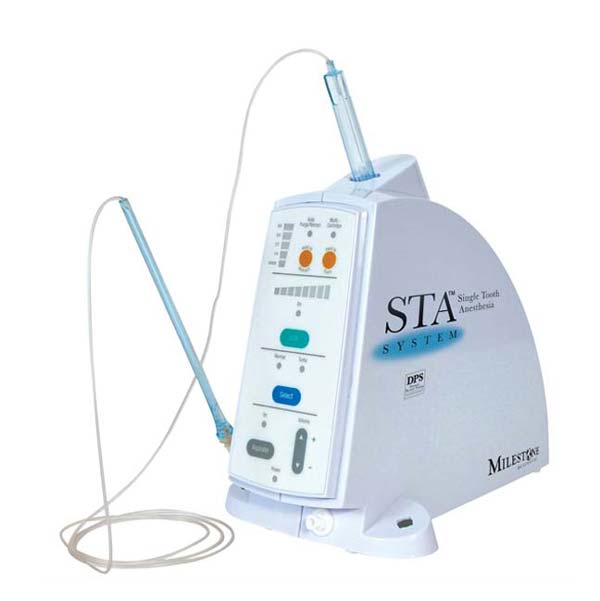 Ease Your Anxiety at the Dentist
Moreover, 40 million Americans are termed "dental phobics," people with such severe anxiety that they avoid dental care altogether. In fact, nearly 25% of all dental appointments are canceled because of this phobia. Don't let your phobia come between you and the dental care you need to maintain good health. Ask for STA at your next appointment.
It is estimated that nearly 50% of the U.S. population experience some anxiety when visiting the dentist.
Personalized Dental Care for a Wide Range of Issues
If you're looking for a local dentist who offers family dentistry, cosmetic dentistry, and gum disease treatments, look to Dr. Audrey Sim. She delivers personalized dental care for a wide range of oral health issues.
Do you need a dental crown, dental implants or dentures? Dr. Audrey Sim can help. In addition, they provide dental fillings, porcelain veneers, and teeth whitening
Dr. Audrey Sim serves the residents of Algonquin, IL as well as the nearby Illinois communities of Carpentersville, Crystal Lake, Huntley and Lake in the Hills. For expert dental care, give us a call and schedule an appointment. Reach out to our office by calling 847-854-9833 at your earliest convenience!